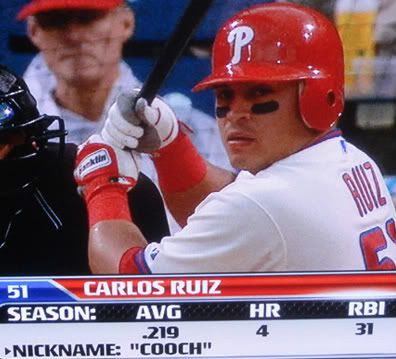 sure, his career average is somewhere just north of the mendoza line, but this guy hits in the clutch fo'sho!
i remember him having a few clutch hits towards the end of last season.
and he was AMAZING in the world series. he hit .375. he was stellar behind the plate with the way he managed games. and he had the winning hit in game 3, a game i had the honor to attend. as
sports illustrated
said about his postseason performance:
After a fine rookie season in which he hit .259 with 54 RBIs, Ruiz struggled this year, finishing at .219 and driving in just 31 runs. In the World Series, though, his .375 batting average trailed only Werth's; his 11 total bases trailed only Werth and Howard; and his Game 3 performance, in which he homered in the bottom of the second to give the Phillies a 2-1 lead, and then hit the bottom of the ninth, bases-loaded infield single that won the game at 1:47 a.m., turned the Series in Philadelphia's favor for good.
and today, his clutch hit in the bottom of the 9th sent the game into extra innings. sure, the phillies didn't win, but his clutch hitting put them in a position to win the game.
he was my vote for world series MVP. dude is clutch.